SSKB Developer Consultancy is a dedicated division of consultants providing prompt, reliable and accurate strata development consulting advice every time.
Whether you are a Body Corporate or an Owners Corporation with mixed use, residential, commercial or retail, we have a strata solution to suit your requirements. SSKB has an established reputation as an experienced, hands-on partner in complex developments.
We specialise in development consulting advice, mitigating and minimising potential risks throughout the entire planning process, and delivering quality, professional service no matter how challenging. From initial scoping through to scheme registration and beyond, we remove every potential obstacle and find ways to streamline each project's operation and maximise profitability.
We understand the details and complexities associated with projects and tailor highly focused, individual client solutions. Up to scheme registration, SSKB handles all necessary reports, as well as creating and delivering the core titling structure arrangements. We also deliver comprehensive site management arrangements and investigate utility models. We build a personal relationship with all stakeholders. Developers know that both simple and integrated complex arrangements require specialist expertise in deliverables after registration. We build a solid platform for all stakeholders through a raft of measures that ensure no detail is left to chance, from building defect inspection and report implementation programs to a warranty register, site inspections, compliance, welcome, induction, orientation and handover programs.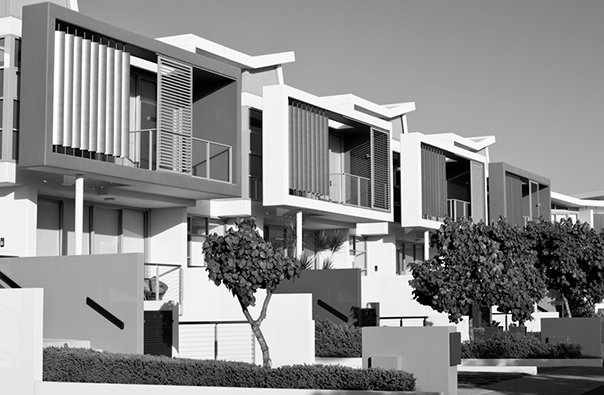 INNOVATION
We have been investing in new technology and innovations to make living in a strata titled complex as simple and frictionless as possible. We believe in making a positive difference in the lives of our clients and have done so through initiatives such as the first ever 'Committee First' app, completely digital forms and an ongoing commitment to innovation. Protect your legacy and hand your project over to the most innovative strata management company so your new owners experience the positive SSKB difference.
PROCUREMENT
Strata properties are becoming increasing popular in South East Queensland. This rise in demand also leads to an increase in competition within the development industry. This has forced developers to keep their prices low without sacrificing quality. Through the relationships that SSKB Developer Consultancy have built over the past 25 years, we are able to offer our clients procurement services to ensure their development is at the highest quality without the hefty price tag. For example, an SSKB aligned developer has managed to save more than $260,000 on bathroom fittings alone for an 85-lot development through utilising SSKB's procurement partner. SSKB's procurement partner generally saves 20% to 65% on local supply prices as they have direct access to manufactures who supply Australian Wholesalers / Retailers. This is due to our procurement partners purchasing direct from the manufacturer for our clients.
COMMUNICATION
We understand the pain it causes when you can't get in touch or you are waiting on documents with no update in site. At SSKB we put a big focus on communication and ensure we deliver timely responses and you have direct contact with all key individuals working for your project.
At SSKB we focus on keeping our clients informed and up to date, so our communities operate harmoniously. We distribute newsletters, educational videos, books, articles and more! From the moment you sign a contract we ensure we deliver what you need to know, when you need to know it.
DEVELOPER CONSULTANCY TEAM
At SSKB we guarantee the highest level of service for our clients by consistently going above and beyond in our projects. We work within the respective state legislative schemes and meet the cross-section of needs of the development community, including high-rise projects, townhouses, strata land subdivisions, integrated resort communities and mixed-use development schemes. We are able to service projects in Queensland, New South Wales and Victoria; and we are across the three different state legislations. Clients receive prompt, reliable and accurate advice every time. Our service is focused on minimising your risk and increasing your margins. We help clients create a product that is highly market-desired; a flagship for future purchases.
COMMUNITY MANAGERS
At SSKB, we facilitate harmonious communities by examining how Bodies Corporate and Owners Corporations operate, discussing common issues and continually providing innovative solutions. Our offices have an experienced team of community managers, each with a dedicated assistant manager. Each team has, by industry standards, a smaller-than-average portfolio, which allows them the time to focus on every single detail associated with each project. We have a broad portfolio of schemes under management and pride ourselves on having the most deeply experienced and skilled development and management teams in the industry. From smaller projects right through to more complex, layered schemes, SSKB has the broad experience and intimate industry knowledge to tailor successful, individual solutions for any client.
CLIENT SOLUTIONS TEAM
As part of our ongoing commitment to providing the most effective customer service possible, SSKB has a unique, in-house client solutions team working to assist all owners. It's a one-stop shop for all information regarding their Body Corporate and Owners Corporation where real people are on hand in real time to discuss issues or answer questions. SSKB is committed to ensuring the highest level of customer service possible and this means promptly providing solutions to incoming enquiries and client concerns. Our unique Client Solutions department handles an average of 190 calls per day with around 120 of these being marked as a 'one-touch-resolution.'